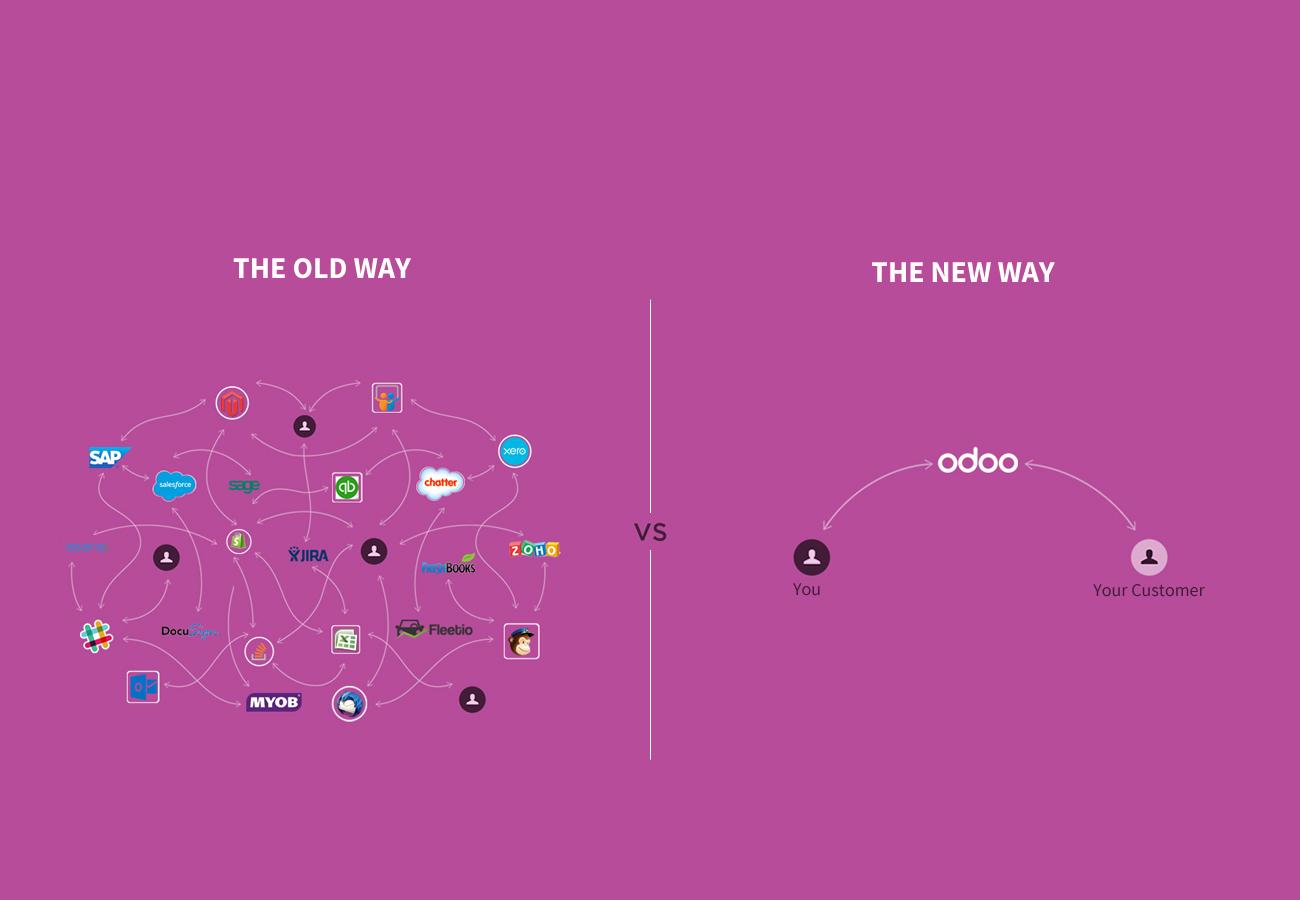 ERP
The success of any business lies in effective communication and proper data exchange within its internal departments. Any kind of delay in the data exchange between the core processes and administration functions will be a remarkable hurdle for the progress of any company and that can lead to failure of any business. To overcome from this problem, a concept, 'ERP' came into existence. ERP, the vast tool, capable of integrating internal business processes of any organization, is so called termed as Enterprise Resource Planning. In actual, ERP is a wide centralized database where all the inter-departmental data is stored. ERP integrates business solutions for the core processes production costing, capacity and control, warehouse and logistics, project planning & task analysis, sales and crm to the main administration functions like accounting and human resource of an enterprise.
ERP is an approach of amalgamating the various departments of an enterprise such as Sales, HR, Finance, Marketing, Production, Warehouse, etc. The single source where internal departments can share and access information quickly is ERP. It is capable of performing multiple operations in a single time and can be used by various enterprise units at the same time. Thus, we can consider that ERP can open a door to vast business process improvements for any company by the various aspects like better customer service within the time line, smoother functioning of business by everything in one place, decision support by results of informative business reports, eliminating IT barriers to growth & revenue, and the coordination of various business activities.
Improved decision making
ERP provides a real-time, enterprise-wide view of the business for faster and more effective decision-making. All of the departments are integrated with each other in ERP, so their collective BI reports will help you in the key decisions for the improvement of core areas at your company. Hence, your decision makers will enjoy greater peace of mind and confidence in the choices they make.
Solid Operational Backbone
ERP can solve a number of challenges and provide invaluable benefits to manufacturers seeking to reduce costs, manage growth, streamline processes and gain a competitive advantage. It enables the Manufacturers to function promptly, which will able to improve the volume of production & fulfillment of orders. This information hub delivers accurate, real-time information crucial to the manufacturing industry by integrating all areas of business aka materials & inventory, production, operations & sales, accounting & finance etc.
Centralize Your Finances
With ERP, you can streamline your core finance operations and capture new growth opportunities. ERP is a great way to maintain the accounting updated in a reliable and precise way. It can integrate your key financial and accounting processes & make it easier to manage spend, resources, and financial reporting requirements so you can see the influence in financial terms over the enterprise as a joint system. That will take your business far more beyond the traditional accounting software.
Increase Productivity
When all of your business data is easily available to all departments at once, your employees will save the precious time and hassle of having to contact employees in other departments for the information they want and they will not have to wait for latest information. Hence, ERP will increase the overall productivity factor for an enterprise.
Cost Effective
By streamlining data into single ERP application, you can save the overhead cost of having individual softwares and management systems that you have for different departments and for them you were previously paying for each department. Moreover, inside ERP Most of the business processes will be automatized, so it will help you to overcome from human errors and decrease the cost even more.
Streamline Employee Engagement
ERP is a single, centralized system for your global and local workforce management and payroll processes. With ERP you can extend, automate, streamline, and your core HR processes. Core Human Resources in ERP covers workforce management, leaves, performance appraisal, timesheet and attendance, recruiting, payroll, and more – so you can fully leverage your employees' skills and drive growth.
odoo
The concept of high-level integrated architecture, to satisfy the needs of fetching inter-connected information, within various departments of an organization, has given a great relief to millions of users. Odoo is a license free software combining all the features of traditional ERP as well as providing additional modules for the business aspects. It is widely accepted nowadays to manage different scale companies. Not only in the Production Sector but also in Service Sectors, Educational, Health, Logistic and almost in all major sectors, this versatile software has been accepted wholeheartedly. Ever up-to-date source code available, ever-expanding modules, facilitates fully customization abilities are the major aspects of Odoo. It was formerly known as OpenERP but renamed as Odoo in May 2014 after launching of version8. Odoo v8 includes apps containing eCommerce, Business Intelligence, Website creation, point of sales etc. Odoo is growing so fast by releasing its new stuffs of extendibilty that we can't even think of today.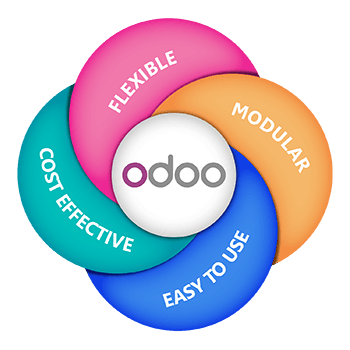 Licence Free
Odoo keeps on modifying due to its license free feature and thus latest source code is available whenever required.

Integrated Apps
Integrating different modules like Sales, HR, Accounting, Marketing, Finance, CRM, etc.

All in one
Amalgamate the features like designing Templates, Blogs and Notes, Chat and Notification facilities, automatic Schedular, Project management.

Manage Multicompany
Managing multi-companies, multi-currencies and multi-languages as per the requirement.

Robust Backend
Managing all the background processes right from the inventory management to shipping, or from purchasing to production, or from marketing to invoicing, or from shopping through website to delivery and many more.

Integrated CMS
Offers Bootstrap CMS and eCommerce modules integrated in website builder with various Themes/Blocks/editing features, so that extra third party plugins need not to be installed for Website creation.

Amazing Reporting
Facilitates Charts/Graphs/Report generation, Quotations, Invoice creation, Email facilities, etc.

Portal Access
Allows Portal access to customers, online payment through different payment acquirers that can be easily configured with Odoo.

Specific features per each module
Odoo Accounting
Recevable and Payable
Bank Statement Reconciliation
Double Entry management
Multiple Currencies
Currency Gain/Loss
Consolidation Profit and Loss
Balance Sheet & Trial Balance
Multiple Companies & Taxes
Full and Partial Payment
Automated Invoice from Sales
Automated Invoice from Purchase
Country Specific Chart of Accounts
Budget & Assets
Stock Valuation
Analytic Accounting
Easy Process of Year End
Check Writing
EDI Enabled Odoo Sales
Dashboard
Quotations
Orders
Sales Margin
Sales Reservation
Agent Commission
Sales Promotion
Sales Discounts
Contacts
Sales Team
Multiple Shops
Customer Driven Price Pricing
Country Driven Tax
Delivery Orders
Product Delivery Policies
Multiple Invoicing Policies
Advance Invoicing
Payment Terms
Delivery and Invoice History
Quotation Reports
Detailed Sales Analysis Reports
EDI Enabled Odoo POS
User Friendly
Online & offline
Easy and Fast GUI
Auto Management of Cash
Different Payments Types
Put Money into Cashbox
Take Money from Cashbox
Auto Stock Management
Auto Sync with Server
Multi Sessions Enabled
Customer Selection
Pricelist Enabled
Auto Cash Transfer
Payment Adjustment
POS-Receipt By Email
Different Layout for Receipt
Discounts
Shopwise Sales Analysis
Register Wise Analysis
Cashier Wise Payment
Scheme and Loyalty cards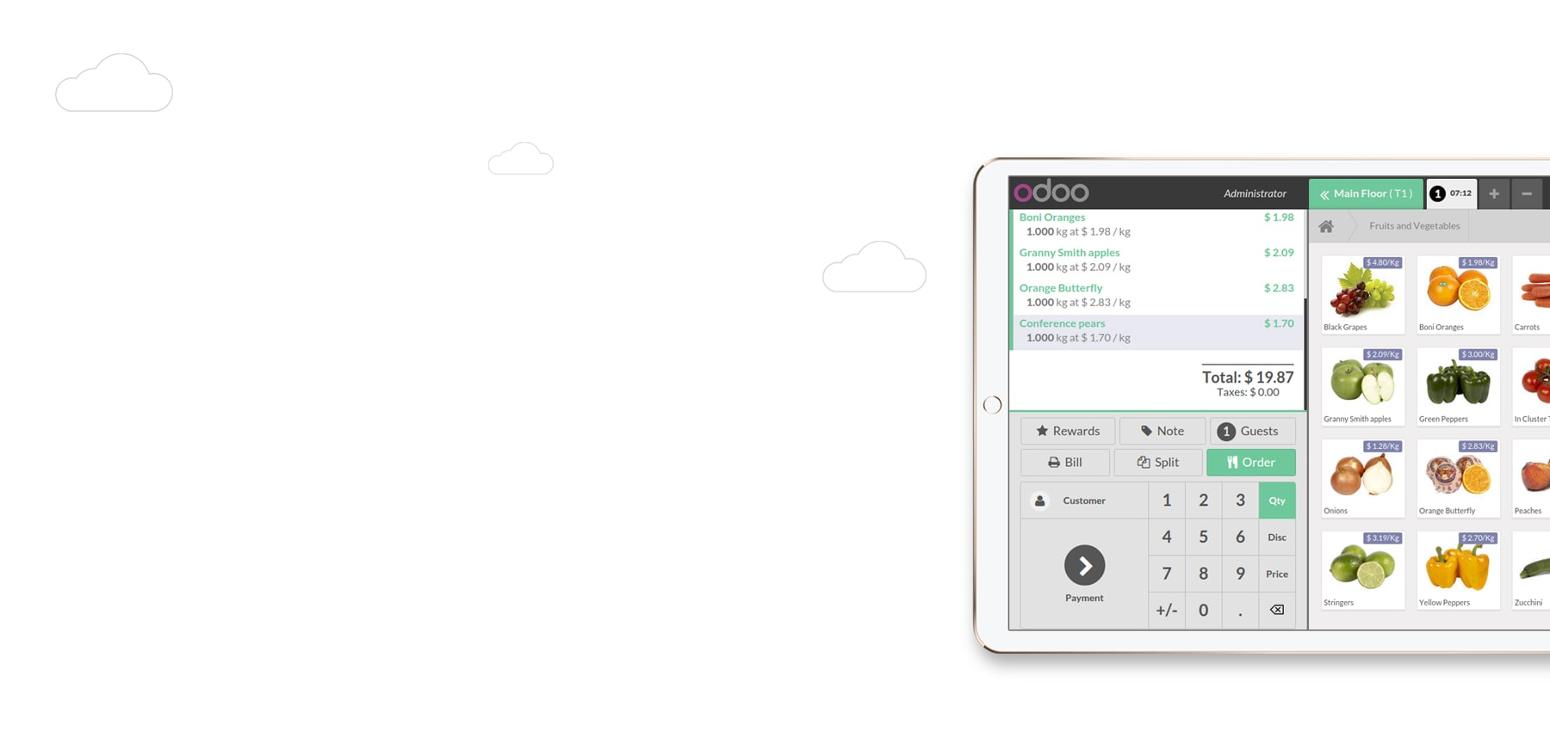 Odoo CRM
CRM Dashboard
Sales Team
Contacts
Leads
Google Maps
Oppurtunities
Integrated Emails
Phone Calls
Support Helpdesk
Fundraising
Marketing Campaigns
Meetings
After Sales Services
CRM Claims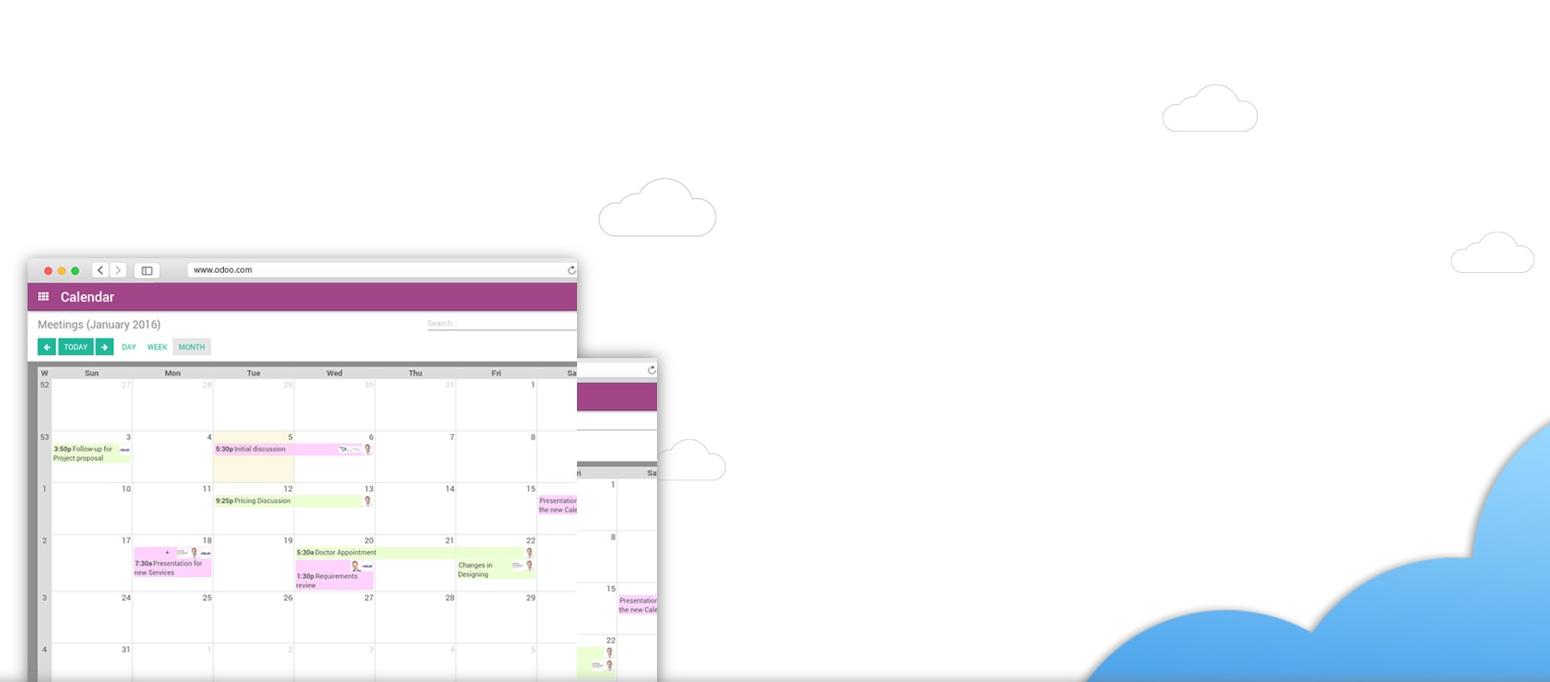 Odoo eCommerce
Integrated Online Store
Customers & Contacts
Orders and Invoices
Web Sales
Web Delivery Orders
Web Invoices
Products & Offers
Awesome product pages
Product Inventory
Shipper Integrations
Magento Integration
Ebay Integration
Amazon Integration
Multiple payment methods
Live chat embedded
Search engine optimized
Web-based website builder
Flexible shipping rates
Inbuilt blogging
Automatic taxes
Sales Analysis
Multistores
Multilanguage Enabled
Customer Portal
Alternative products
Relative product
Easy checkout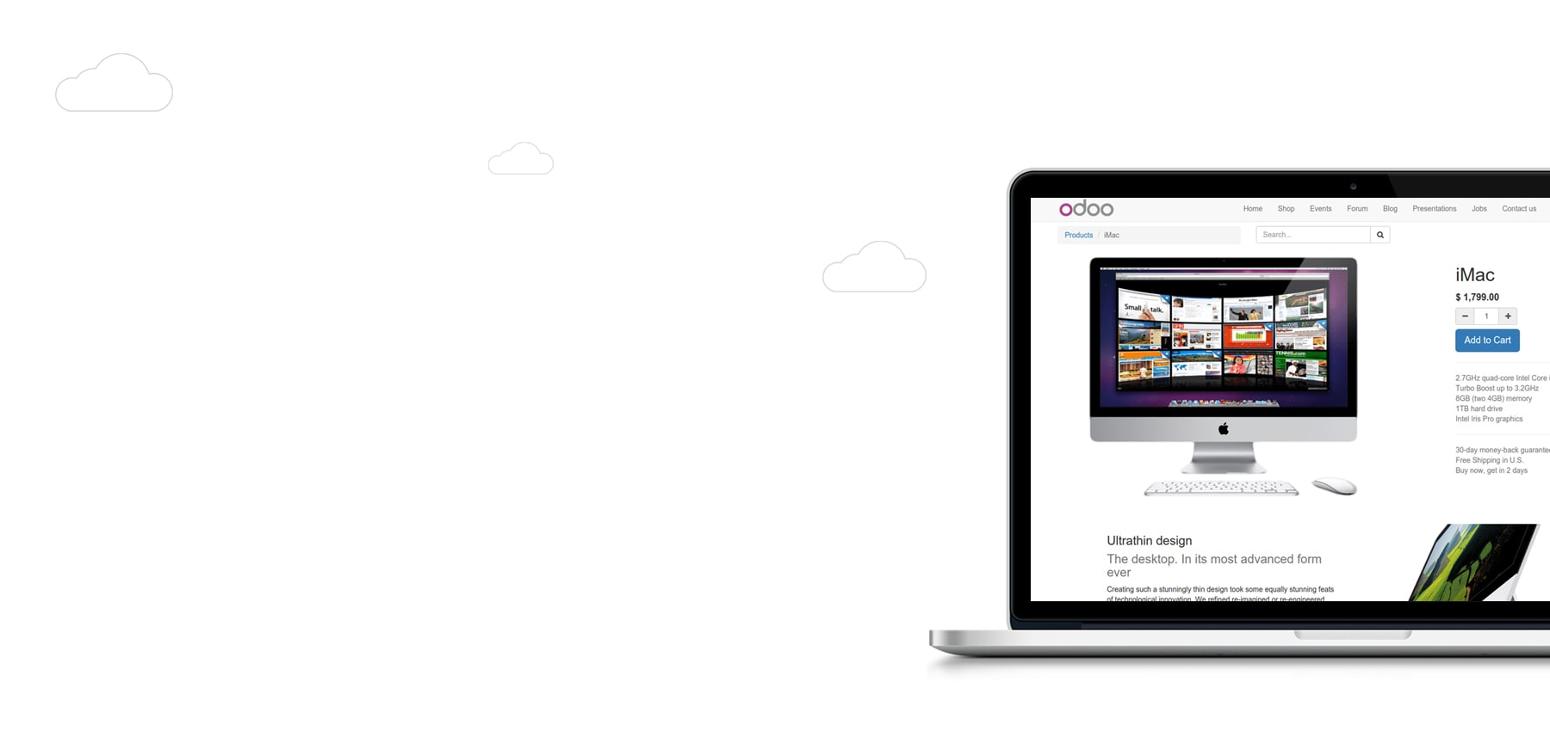 Odoo Manufacturing
Dashboard
Production Orders
Work Orders
Repairs
Waste Reductions
Bill of Materials
Routing
Work order planning on Gantt Chart
Production Costing Analysis
Labour Costing
Job Work Outsourcing
MRP Operations
Production Analysis
Workcenters
Resource and Shift Planning
Production planning on Calenders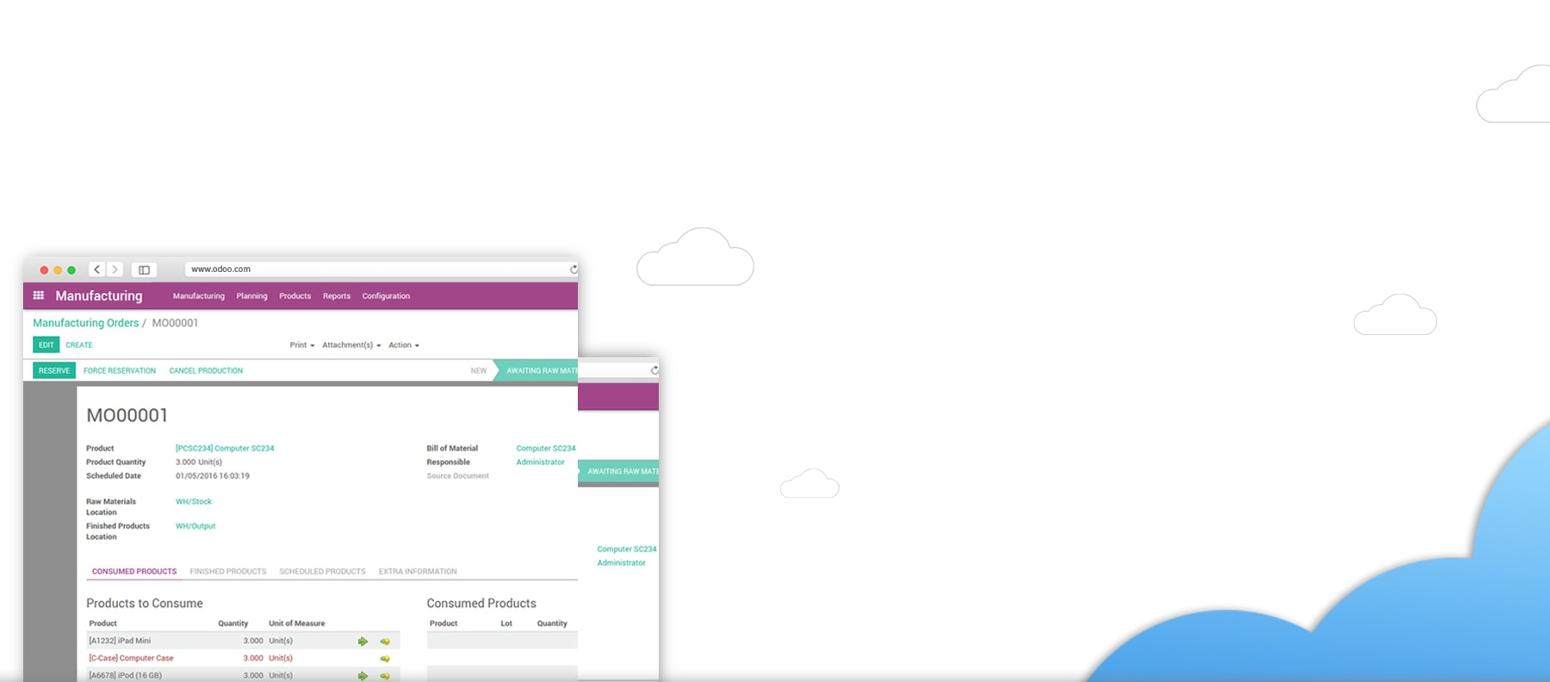 Odoo HR
Dashboard
Employee
Departments
Attendences
Timesheets
Holidays & Leave
Job Positions
Contracts
Payroll
Recruitment
Interview
Employee Appraisal
Expenses
Timesheets Analysis
Resource Scheduling
Gamification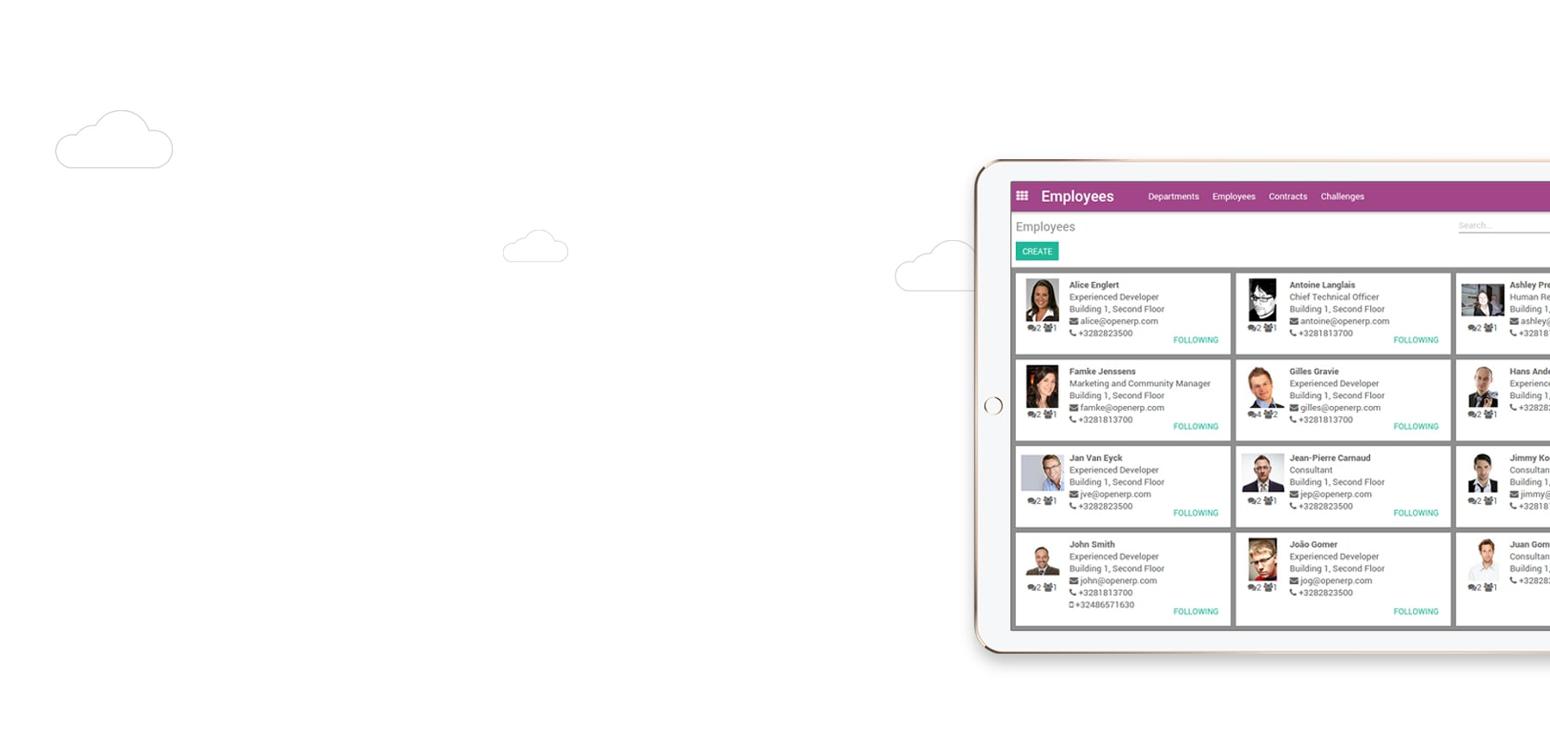 Odoo Project
Dashboard
Project
Tasks
Issues
Time Tracking
Real Time Collaboration
Task activity log
Chat with users
E-mails & Messaging
Helpdesk
Portal front-end
Analytic Accounts
Task Delegation
Etherpad Integration
Invoicing on Tasks
Gantt Charts
Service Contracts
Team Planning
Scrum enabled
Reports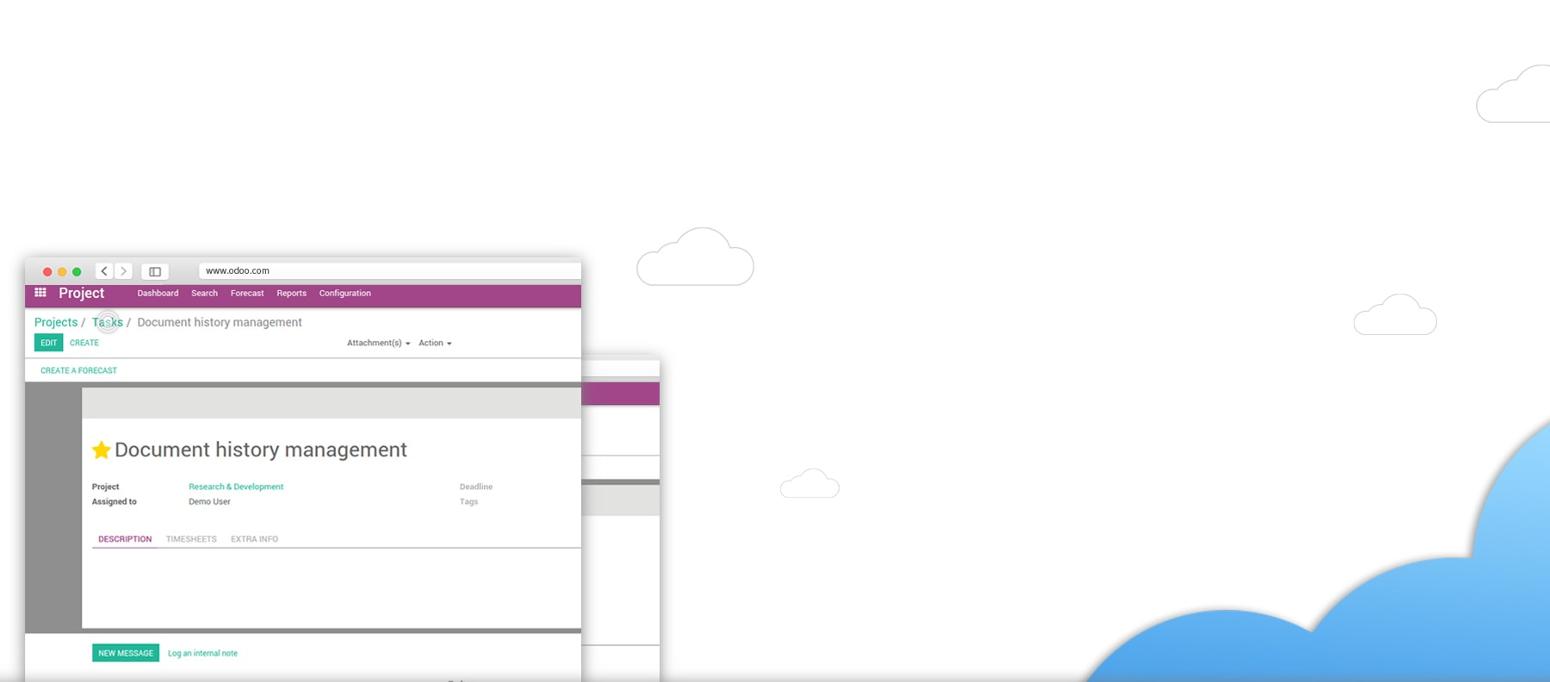 Odoo Purchase
Dashboard
Suppliers and Contacts
Monitor RFQs
Purchase Orders
Purchase Indent
Purchase Requisitions
Refunds
Automate ordering
Control Products
Supplier Discount
Supplier Invoice
Purchase Pricelist
Tax and Accounts
Fiscal position
Inventory forecasts
Different Invoicing Policies
Invoice History
Procurement
Minimum Stock Rules
Incoming Shipments
Purchase Returns
Purchase Analysis Report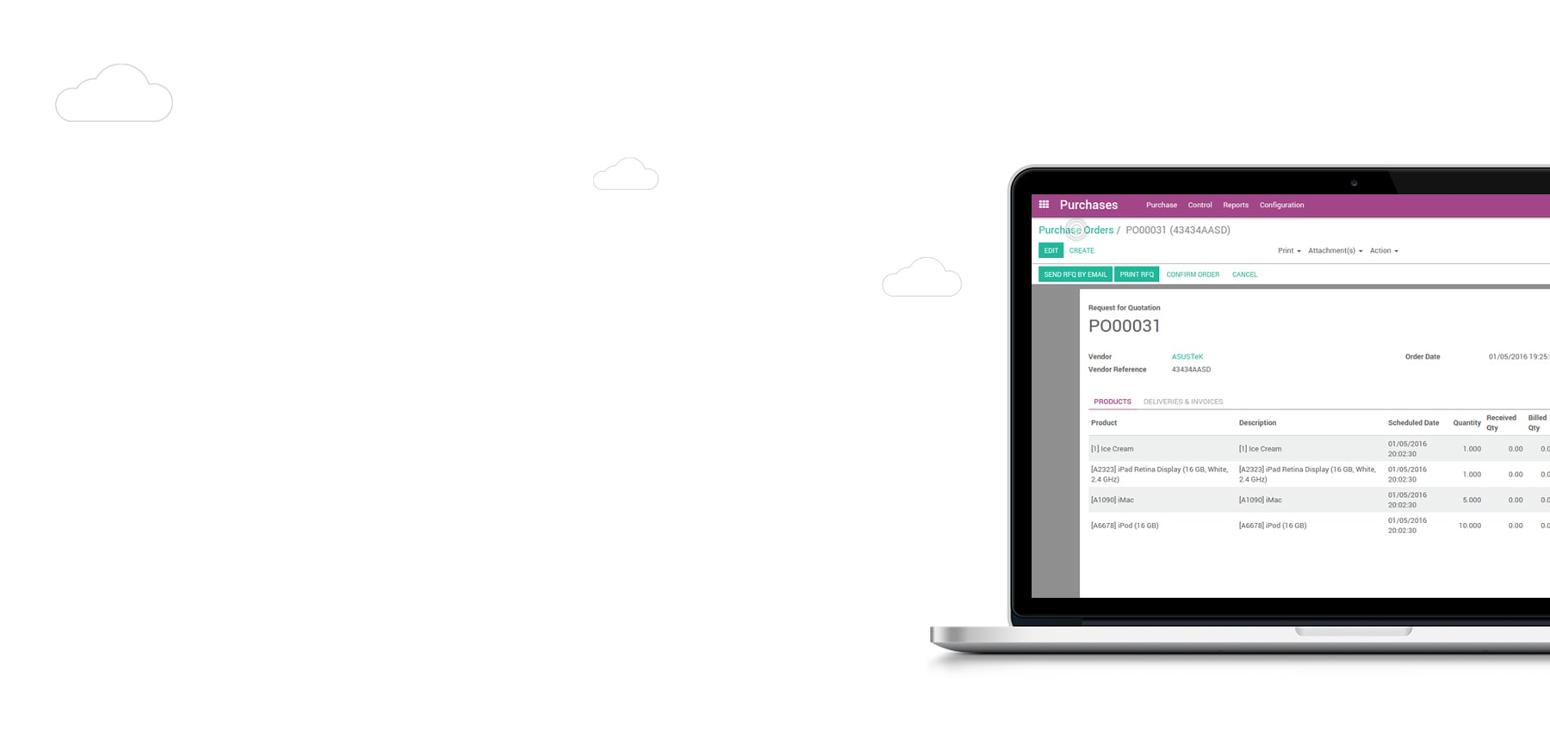 Odoo Warehouse
Dashboard
Landed Costs
Delivery Orders
Incoming Shipments
Internal Movements
Multi Company Enabled
Multi Locations
Stock Reservations
Drop-shipping
Procurements
Inventory Analysis Reports
Multi User Support
Auto Stock Replenishment
Picking Waves
Stock Quants
Procurement Rules
Push & Pull Routes
Purchase Propositions
Barcode Scanners
Smart Scheduler
Scrap Management
Double Entry Stock
Perpetual Valuation
LIFO and FIFO
Valuation by Avg Price
Production Lots
Fiscal Inventory
Stock Forecast
Minimum Stock Rules
Move Analysis Reports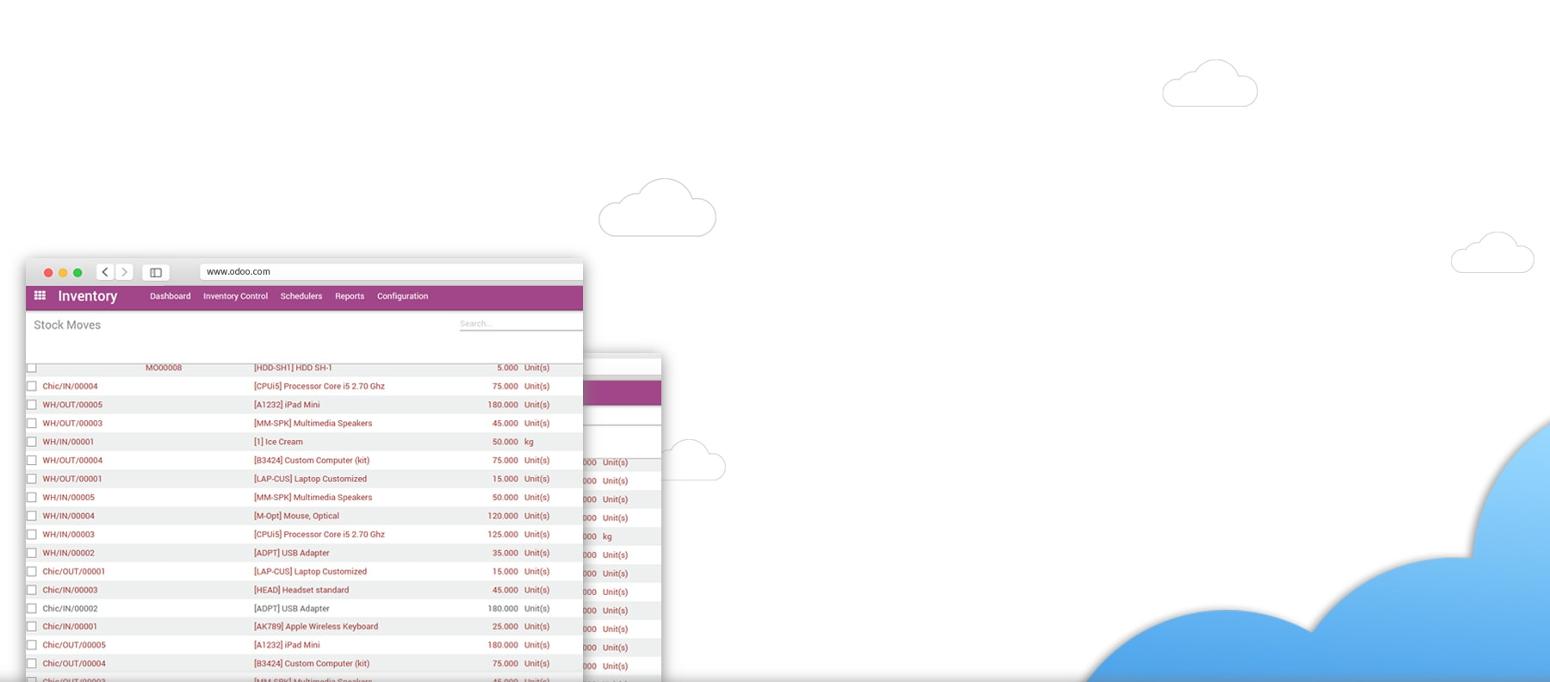 Miscellaneous
Fleet Management
Integrated CMS
Website Themes
Business Intelligence
Mass Mailing
Event Management
Blogs & Forum
Integrated Emailing
Document Management
Integrated Chatter
Real Time Online Chat
Internal Messaging
Word processor text editing
Bootstrap based templates
Professional themes
Marketing Campaigns
How can I extract better result from Odoo? Don't look any further – we can answer that question.
Contact Us