Company: Andreas Uhlig Gmbh
Location: Germany
Industry: Retail
Services Offered: Odoo Consultancy, Odoo Implementation, Configuration, Customization, Training
Odoo Applications: Discuss, Calendar, Contacts, CRM, Sales, Helpdesk, Purchase, Planning, Inventory, Accounting, Project, Employees, Invoicing, Studio
Other Applications (Integrations): Magento, eBay, 3PL, SEPA
Applications Replaced: Legacy Systems, Spreadsheet Management
Hosting & Edition: Odoo Enterprise
Implementation Timeline: 1 year

Andreas Uhlig owns one of the leading procurement companies dealing in the areas of the hotel, healthcare, industry, trade, craft, and service sectors for more than 25 years.
As the retail industry is one of the rapidly growing industries in the world, this unstoppable rise brings management requirements and issues with it. From managing daily activities to reporting overall progress, ERP solutions are more than a necessity for retail companies.
Andreas Uhlig, in cooperation with Odoo, got the power to provide better service to its customers by approaching a systematic implementation of its business operations into ERP. The company was able to put this into practice with Emipro's expertise in both the retail industry as well as Odoo integrations. Integrations between different sales channels, dedicated consultancy, automated reordering process, and 3PL integration are the key components behind this successful implementation.

Before: Challenges and Opportunities

Disconnected methodologies in processes: Managing data in CSV or Excel through emails,  getting and confirming orders via e-mails.
Redundant data: Multiple sources for the same data
Data security: Possibility of exposure of confidential data within mail loops
Difficulty to meet customer expectations: Risk of stockout and risk of lost sales
Possibility of excessive stock: Risk of inaccurate calculations for purchasing quantities
Great effort in retrieving & compiling information for reporting
Difficulty in decision-making using historical data
Time-consuming accounting & finance tasks
Lack of flexibility to respond faster to market changes
In order not to miss technology's next wave, Andreas decided to move forward with Emipro to set up their business in an Odoo ERP system.
The main objective of the project was to have integrated data management in terms of reachability and accuracy, centralization of business processes, and response to customers in a changing environment.

Odoo is a suite of open-source business applications that covers all your company needs: CRM, eCommerce, accounting, inventory, point of sale, project management, and so on. Odoo's unique value proposition is to be at the same time very easy to use and fully integrated.

Andreas found Odoo a perfect fit for retailer companies as they are enabled to display and manage the whole data consolidated in a centralized system where integrations are also being activated flawlessly.

After: Value-Driven Results​

Sales Flow and Integration of Sales Channels - Due to the nature of the industry; Andreas is getting orders through different sales channels. B2B orders which are related to MTO Scenario are received from different hotels, custom B2B websites, and B2C orders are received from eCommerce Stores built on Magento and eBay marketplace.

Consolidation of all sales orders and fulfillment accordingly is one of the main accomplishments of the integrated system. Channels are integrated through the utility of API and FTP technologies.


3PL Integration - Odoo provides integration and visibility between the ERP system and the third-party logistics where all the products are stored. Emipro's 3PL integration is the bridge for obtaining alignment between ERP and 3PL systems; synchronization supports tracking the status of orders and stock items. Stock management and order fulfillment are managed by 3PL. no manual user action is required. Orders will be delivered at the scheduled time that is informed to the customer. The sellers can directly send the products to the 3PL service provider's warehouse and the history of return records can be reported. Everyday stock information is synchronized between Odoo and 3PL.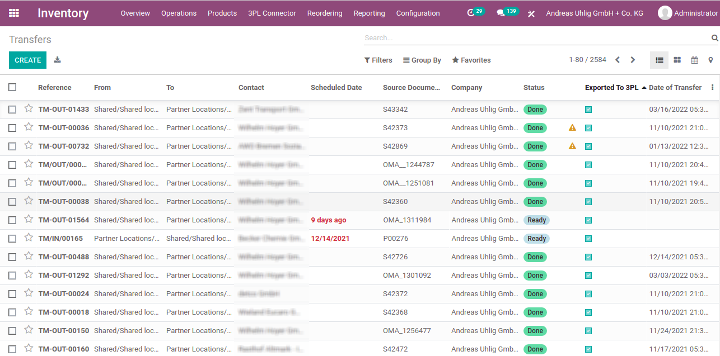 The 3PL development is enhanced by the Dynamic File Format customization, which enables Andreas to provide the header fields dynamically, which varies as per the different 3PL providers.

Benefits:
System Automation
Save Time
Reduce Manual Errors
Deliver Orders on time
Check Stock Differences and Current Status on Daily Basis
Due to each order fulfillment at the 3PL site; order confirmation is completed at the ERP platform through scheduler automation. Vendor evaluation is manageable with the help of reports and analytics based on historical data.

Automized and Optimized Procurement - Purchasing function of Andreas had a very sensitive connection with stock management. In order to ensure the highest service level; an advanced re-ordering system is designed and implemented. Before the implementation, the re-ordering process worked manually. Sales history and manual excel formulas were used to determine the quantities and create purchase orders.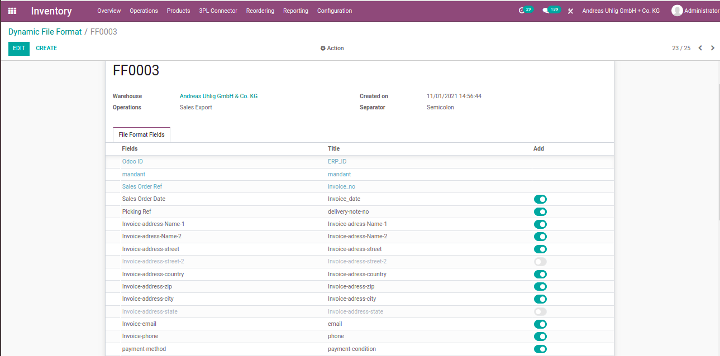 Rules and calculations of the formula are defined by the company with determining the parameters. Through this calculation structure; stock levels are kept at optimum quantities which enables the company to avoid both having excessive stocks or stockouts. This optimality supported reducing stock-keeping costs as well as customer satisfaction.
On the other hand, the purchase order creation function is automated, an out-of-the-box function to fully cover the re-ordering in Odoo ERP. Concepts like generating the price according to the last purchase diminish the dependency on the personnel and ensure the process is self-driven.
The advanced re-ordering system is extended to such a depth that the effect of the stockouts or the excessive stocks are being shown in the cash flow statement also so that it can be analyzed in the appropriate reports.

Benefits:
Minimum and Maximum Stock Levels
Customization; System calculates the future demands based on the past N number of days, let's say, 30 days. Prediction is very near to Actual Quantity
Increase Available Stock; To increase sales - always in stock
Automates the Operation; it saves time
One Purchase Order per vendor (combined SKUs)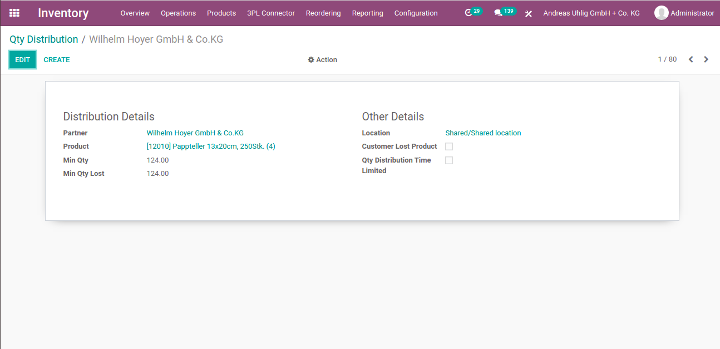 Customer Services via CRM - As different sales channels provide a large number of customers and it creates differentiation requirements; Emipro implemented the CRM function of Odoo to manage customer quotations and offers. Thanks to these salespeople and managers, making them more efficient, and giving them access to easily segmented, well-visualized information. It allows Andreas to see all its leads/opportunities in one location and manage it from one stage to another and analyze its results.
Tailored Reporting and Analytics - Andreas has gained complete visibility into all aspects of its business with great help from the designed reports: Supplier Information Report, Canceled Product Report, and Sales Margin Report. As reports are designed specifically according to the company's needs, responsible people in the firm were enabled to access and interpret the data more accurately which facilitates taking preventive actions and seizing opportunities.
Accounting – Accounting has become flawless now with Business intelligence reports and Smart Reconciliation Banking Tool. The data entry process is highly automated with automatic invoice creation, registering bank statements, follow-up payments, and more.
The enhancement in the reconciliation processes has enabled to reconcile of any payment with several invoices in a button's click. As a part of automatic reconciliation propositions, Odoo matches 95% of invoices & payments automatically and the smart matching tool allows to do the remaining 5% very quickly.
The reconciliation report shows audit differences between the firm's accounts and bank statement balance to ease the further reconciliation process.
Automatic Margin Analysis - Emipro configured a solution to compare the sales price with the cost price to calculate the margin. The users can prepare their sale margin based on the expense or with the help of a pre-defined formula. The margin is carry-forwarded to the books of accounts as profit.
- The more efficient you calculate sales margin the better you can manage the budget
- Include all direct and indirect expenses including the material cost to delivery charges while calculating sales margin
- Evaluate sale margins of different products
- Compare the sale margins of your product with the products of other companies.
Customer wise price-list - Different prices are offered to different customers based on their order volume or any other discount deals i.e., different prices for different B2B and B2C customers). Set several prices per product to their category type.

SEPA - The SEPA (Single Euro Payments Area) is a pan-European network that allows you to send and receive payments in euros (€) between two cross-border bank accounts in the Eurozone. With SEPA integration, sending money within the eurozone became as easy as making the usual domestic bank transfers.
Direct Debit Mandates
Customer Invoices
Generate SDD Files
Close or revoke a mandate
Accomplishments in a nutshell
Improved accountability across the company
Increased traceability for products
Reduced shipping errors
Increased on-time delivery
Shortening month-end closing time
Increased inventory turns
Reduced scrap/excessive stock
Simplified budgeting
Eliminated manual record-keeping tasks
Removed redundant data entry and the unavoidable mistakes inherent in patchwork systems
I can't praise enough the team at Emipro. They covered my business from a 360-degree view so that no process in my business remains unattained and it can be re-shaped in the best possible way.
The team leaders are highly knowledgeable and tech geeks. They are smart in playing with ERP and made my Odoo system very smooth and user-friendly. They improved my digital operations from scratch and automized the system to manage a very huge part of my business on its own.
They have delivered me the best experience ever. I can recommend them for any and all aspects of ERP.