Company: Alida Systems
Location: Ireland
Industry: Cable and Wire Harness
Services Offered: Odoo Consultancy, Odoo Implementation, Odoo Configuration, Odoo Development, Training
Odoo Applications: Contacts, Sales, Accounting, Purchase, Inventory, Manufacturing, Quality, Barcode, Repairs, Product Lifecycle Management (PLM), Sign, Employees
Applications Replaced: Access Supply Chain ERP, ReadSoft Software
Hosting & Edition: Odoo Sh Enterprise
Implementation Timeline: 2 months

Alida Systems is a company based in Ireland, popular for manufacturing electrical cables. They manufacture cable harnesses, supply contract equipment, and box-build panels. They are renowned wholesale dealers of cable and wire harnesses across automotive, security, health care, telecommunications, defence & aerospace and commercial cabling sectors.

Challenges: Alida Systems Lacked a Structured System for Handling Manufacturing and Accounting Data

Inefficient Systems - Alida Systems used an ERP called Access Supply Chain to handle their day-to-day operations. While the system helped for a basic level management, it couldn't handle the production or manufacturing data in a full-fledged manner.
The company still used paper-based orders, printed drawings, and related documents. It led to data inconsistencies and mistakes that hampered all other business processes, plus it was extremely time-consuming to document all vital information on paper.

Lack of a Product Life Cycle Management Platform - During manufacturing, the team had to examine the products manually and pass them to the next stage. Their existing ERP was not capable of handling the associated data. Moreover, there was no segregation or clarity on how the processes were handled in each stage. 
For example, when the company receives an order, it would have specific order components and operations. There would be a bill of materials, work order, and manufacturing order documents. 
As their ERP was inefficient, several data discrepancies crept in along with some problems:
The process of preparing products as per the orders became time-consuming. 
Adding, modifying, and updating data was difficult, leading to manufacturing delays. 
Paper-based documentation was a big problem while manufacturing complex parts.
Solutions: Emipro Elevated Alida's Order Management, Product Life Cycle Management, And Accounting through Streamlined Odoo Solutions

Comprehensive Data Management with Odoo ERP - Emipro helped Alida solve data management issues by offering an integrated Odoo system to help them manage their production, manufacturing, and accounting information. 
They didn't have to depend upon paper-based work orders or data-entering practices. Odoo provided the company with the following benefits –

​Capturing data for time recording and making calculations
Consolidating all the information under a single platform 
Sharing information across multiple departments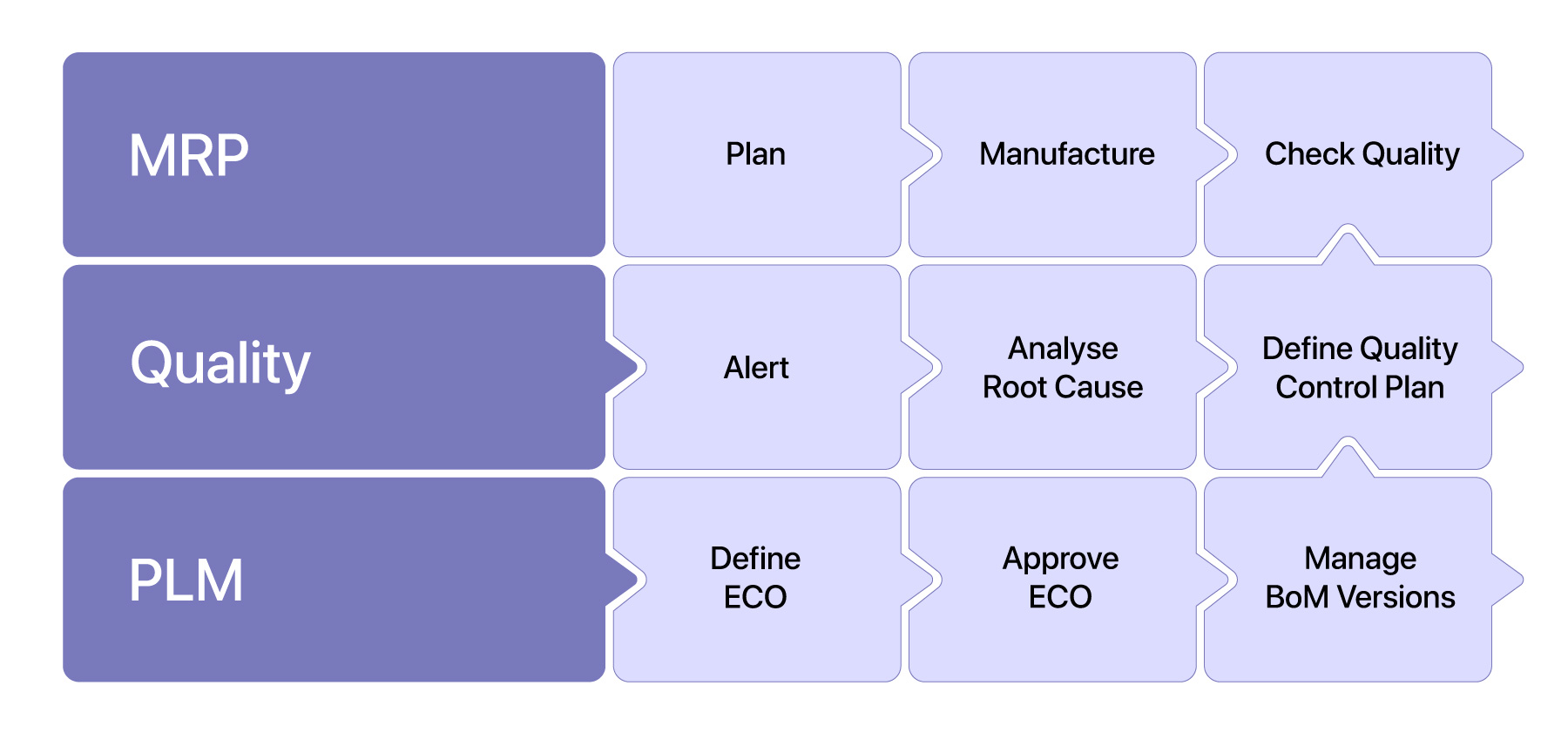 A Streamlined PLM System for Better Manufacturing Processes - When Odoo was implemented for Alida Systems, Emipro developed a streamlined PLM system for manufacturing orders. Product Life Cycle Management is important for – 
Improving manufacturing efficiency
Evaluating stages
Preparing project schedules
Maximizing profits and reducing wastage
The different Odoo features that helped Alida are discussed below:
Bill of Materials - The bill of materials is a document that includes data about the raw materials and components needed to develop a product. Without it, managing product development requirements and expenses is challenging. 
However, as the new PLM module offered a bill of materials, handling product information was smoother. The entire team was on board with the project requirement and expenses.
Manufacturing Orders (MO) - Manufacturing orders (MO) are built to define a product with components required in it. 
The different details specified under MO are –

Components which included hardware raw materials
Operations such as labeling, prepping, final assembly, and testing
The MO helped access the project/product data quickly and understand the component quantities.

Work Orders (WO) - An MO is the parent record on Odoo, and work orders are its child records. Work orders define the manufacturing stages any product is divided into and its corresponding operations. 
These work orders helped Alida employees to manage project data, deadlines, labor and expenses efficiently.
Work Centers - Work orders define each manufacturing stage as work centers. These included stripping, soldering, machine crimping, and final assembly, which were departments in the factory. Moreover, the operations corresponded to these stages. 
With this feature, professionals could establish project completion timelines and track each stage's progress.

Importance of Time Duration and No of Component Units Mentioned In MO and WO - Through the Reporting feature, Odoo enabled users to track the various aspects of work orders and manufacturing orders. 
Time duration – Helped understand the time taken for completing a stage.
Number of component units – Defined the different unit amounts needed for each stage.
It provided better clarity on the project's progress and deadlines, which was not possible earlier.

Improved Solutions to Manage Accounting and HR Documentation - Odoo had excellent accounting functionalities to store financial information. Inventory valuation, invoicing, taxation, data importing, and online bank reconciliation facilities were available on the platform.
Impact: Alida Systems Upgraded the Data Management, Manufacturing Order Handling, and Business Efficiency

Alida Systems improved its B2B sales and order management through effective Odoo integrations and solutions –
Better order management – Handling manufacturing orders, storing associated information, and executing stages efficiently was possible. 
Improved product life cycle management - Better PLM resulted in faster product manufacturing, deployment, and revenue collection. 
Streamlined accounting solutions - They no longer depended on spreadsheets and used Odoo for invoicing, taxation, and preparing HR/Admin documents. 
Increased operational efficiency – Alida got a better view of their data on a single platform, boosting their efficiency. 

Thus, Emipro's services allowed Alida Systems to enhance business efficiency and synchronize various processes. 


In my search for a serious and knowledgeable implementation partner, Emipro made worth it.
They had dedicated a small team for my project who will be up on our timezone and like you can ask them anything even in the midnight.
Initially my team was wondering how everything will work out, but eventually all went well as expected. All the manual job and the inaccuracies it brought into the business everyday slowly got systemized. Even they trained our team well to get well-versed with the new ERP environment. All in all, a reliable relationship with Emipro gave us an invaluable Odoo System!