A common phenomenon for the team is people who are together and working on a same project in the workplace. We all have heard about a good team which is a result of a good leader leading the team. The team makes company is another thing which is very common to listen. These are very narrow screenshots taken from a very big picture. Basically, Team is all about becoming WE physically and mentally both from I. All of us want to be in Team but always persist to be ME instead of WE. We might have our place in the team physically but most of us always think individually which somehow does not give us the result as desired. Here the finest example we can quote is of a group of geese that flies up in the sky just because of its teamwork. Have you ever observed the fleet of geese and their formation in the sky? They always fly in a group forming a shape of "V". The reason behind it is that it makes it possible for the whole group to move far getting less tired. Every time a goose swing its wings the geese behind it gets an updraft inertia which in turns helps them out to fly more easily. Each goose comes ahead one by one as the former one gets tired. Through this teamwork, we should learn that just being a part of a team is not enough, you have to give your blood and sweat along with your dedication to getting the highest return out of the teamwork.
It is always said that, if you want to go fast, you should go alone but if you want to go far, you should go together.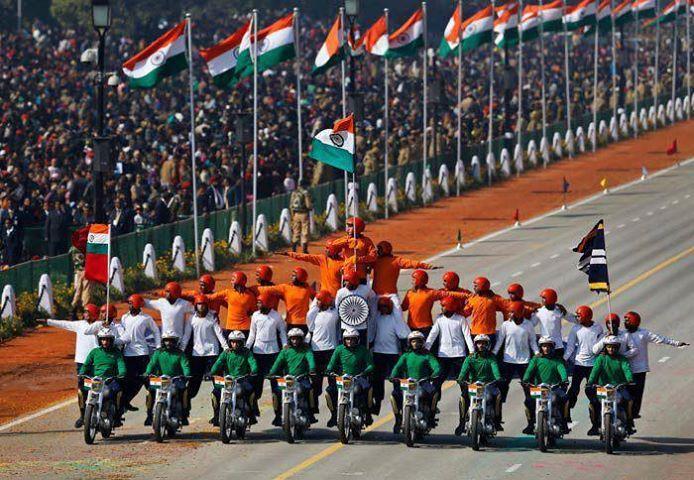 We have plenty of examples where the teamwork has won the hearts and it is all because each of the member is just for the team and not for own self. 
One of the very live examples of teamwork and the superb result out of it is our INDIAN ARMY PARADE and the stunts they perform in front of the delegates on Indian republic day. You can see the image above where the charm of being WE is apparently visible.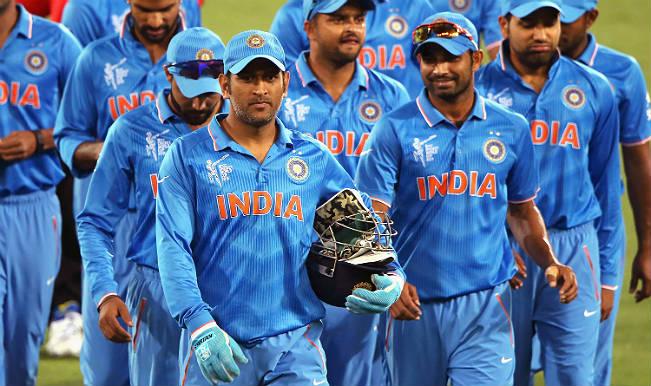 In India, we all are crazy about cricket and the players. We all imitate a number of cricketers and many of them are our role model. But can it be possible for any of the players to play alone? Though one can attract more fans but can never be a part of the cricket fraternity if he is ONLY the one. It is the team that handles all the pressure of winning and losing, not the player.  
To be a real team player is as important as being a good employee. Many of us can give our best when working on our own but to be a part of the team and making it stronger is altogether a different challenge.
Below are SEVEN Mantras that will make you perfect team member of a perfect team:
#1 Contribute your Core Competencies 
When we are working in a team, the only individual call should be exploring one's own self-core competencies and helps the team to take an advantage of it. The team is all about different strengths merged together to fight against every odds and reach the desired destination.  To see how merging your competencies with your team can be fruitful, I would narrate a story of Turtle winning the race against Rabbit in an advanced version;
We all know about the episode of the story where Rabbit loses the race in spite of being stronger than a turtle because of his overconfidence. Soon after this, Rabbit realised his mistake and decided to show his sportsman spirit by extending a hand of friendship to turtle. Seeing this new friendship, another rabbit, out of his jealousy decided to club up with rabbit and again throw a challenge for a turtle to win the race. Well, the rabbit decided not to leave turtle and turtle said he will surely accept this challenge. The other rabbit thought that his co-breed rabbit is digging a grave for his own self and accepted the challenge. No Sooner the race started, team Turtle- Rabbit and alone rabbit gave their best shot. Rabbit took turtle on his back and ran super fast. Both the players reach a point where there was a river flowing and the finishing line was a crossing of the river away. It was on the opposite river bank and thus turtle took a rabbit on his back and swam to the opposite side. The other rabbit lost the race just because he lacks the competency to swim. Moral of the story is, Nobody has every competency in them and thus teamwork always wins.
#2 Discuss more, Argue Less
Being a team member one should always be open to have a healthy discussion but it should never transform into an argument. The discussion is always interesting which in fact can result in some productive outcomes. To avoid making your discussion an argument, you should empathise with your other team members' view and then should present your own view which can enhance the viewpoint of others and does not seem to be a counterattack. This does not mean that you should not have a contradictory viewpoint but should have the skill to put your point in a way that it is considered as a view and not an argument.
#3 Demonstrate Reliability
When we are working in a team, trust amongst each other plays an important role. This very critical element called trust can be won when one shows the reliability factor. Being reliable does not only mean that you have been trustworthy, it also means giving the space to other team members which makes them able to get dependant on you. If any of them is in a problem, professional or personal, then (s)he could have your name in the list of person (s)he can depend on and can feel relax.
We all have heard a story of a mouse who saw a mouse-trap in farmer's house and asked for help from his fellow members like Cock, buffalo, goat and other animals. All of them somehow showed that the problem does not belong to them and thus are helpless. Incidentally, mouse-trap caught a snake into it instead of a mouse and while checking farmer's wife was bitten by the snake. In a few days, she got extremely ill and to heal it farmer cooked the cock for her then the buffalo and the rest of the animals one by one. Thus moral of the story is if one of your team members is in trouble, you should be a helping hand and the team member can rely on you while facing a problem. If we do not react reliably it may happen that the problem get transferred to us and we are all alone to fight against it.
It is very important for a team member to keep his/her words to maintain the reliability. If you demonstrate your high standards, people will depend on you and expects a good and consistent quality work always.
Team is a conglomeration of different people having different views and have lots of uncertainties. People may come and go, agenda and the gameplan may get altered, roles amongst members may get swapped, all these can take place frequently in a team. In spite of all these aspects a true team player does not fight the change but embrace the situation and take every change as a new opportunity to make his/her team grow.
If you will show your flexibility in accepting everything with a positive attitude and challenging approach it will definitely give you an extra edge and will be definitely noticed by your management.
We all love the people who are down to earth and so to be loved we need to be down to earth. Being a senior person of the team you should be a mentor and in front of your seniors you should be a student always. It may happen sometimes that you get an individual appreciation but you should have a heart to share it with your other team members.
If you can be modest, you can surely be a good team player. 
To be a valuable asset for your team, you should show your commitments towards your work and specially your team. If you are required to be the first one from the team to report in the office you should never step back out of it. Just by keeping your other priorities aside, you can win the hearts of all your team members.
If one fine day, on your birthday, you get a surprise party at your home and you have already confirmed your presence in the scheduled team meeting, you can surprise your team by being in the meeting 5 minutes earlier. This will denote your commitment levels for your work and words both which indeed will add up to your reliability evaluation as well.
If something has gone wrong and you have realised that you have the maximum contribution in making it go wrong then you should have guts to own it and should make it clear in front of your team colleagues that the mistake is done by you. This is the key to learn from your mistake and earn respect from other team members.
Nobody is perfect and mistake is a natural thing if is not repeated. Infact by owning our mistakes we give a lesson to the team members.
The above stated points are few of the tools that can make your team career a happy and smooth one. Hope you find it helpful to be a real team member. Afterall, 
A little change goes a long long way!