Company:
MuuseLabs
Location:
Belgium
Industry:
Technology (IoT)
Services Offered: Odoo Consultancy, Odoo Implementation, Sales Channels Integration, Odoo Development
Odoo Applications: Discuss, Sales, Website, Purchase, Helpdesk, Inventory, Manufacturing, Accounting, Consolidation
Other Applications(Integrations): Amazon Seller Central, Shopify, Salesforce
Applications Replaced: Legacy Systems, Spreadsheet Management

Hosting & Edition:
Odoo Sh Enterprise
Implementation Timeline: 6 months

Muuselabs have emerged as one of the most prominent start-ups in the global business scenario. Today their market is expanding, and they observe a steady increase in products and associated information.
Although this is any business's ultimate objective, managing operations is not necessarily smooth. Hence, like many others, the company struggled to manage product data, manage taxes, and handle invoicing.
They understood that there was a need for technological solutions to streamline operations and improve their efficiency. As such, they contacted Emipro for technical assistance and platform integration.
Emipro having an Odoo Gold Partner certification and industrial expertise was able to help Muuselabs address the problems adequately.
Muuselabs is a world-famous Belgian company whose main product is Jooki, a screen-free audio streaming device.
The central idea behind the product was to offer kids amazing stories and music without exposing them to screens. Its features include decent memory storage, wireless connectivity, extended battery life, and durability.
So, with Jooki as its essential product, Muuselabs promotes and sells its services to offer children premium audio content while boosting creativity. Additionally, they aim to increase family bonding and help children have a fun-filled childhood.
The company provides worldwide shipping and has excellent product quality, which has allowed them to develop a global customer base.
Muuselabs' product catalog currently comprises Jooki players, figurines, and tokens.
Challenges: Muuselabs required sales integration and better systems for accounting

As mentioned earlier, Muuselabs faced problems managing product catalogs, sales orders, invoicing, accounting, and business data. As a result, they wasted a lot of time on billing, cataloging, and delivering products, leading to monetary losses. Essentially, they faced six main issues that affected their workflows. These are:

Lack of an integrated system to handle multi-channel orders

Muuselabs received orders from multiple eCommerce platforms like Amazon and Shopify. While this helped them increase sales, handling multiple orders became a problem.
So, they needed an integrated solution for collecting the order data from both platforms for Odoo for inventory management and accounting. Besides these B2C sales channels, Muuselabs included another channel– Salesforce for selling their products.
As their business kept expanding, their sales data also increased rapidly. The company could not receive all these orders, process them and dispatch the goods timely. Also, managing product imports, payments, and settlements were difficult.
These issues created constant roadblocks in their sales processes, needing immediate resolution. Without the proper integrations for all these sales channels, it wasn't easy to handle orders on Odoo.
Problems in product catalog management
Muuselabs were facing trouble handling its product catalog as it sold certain products as a combination. Selling these combo products was problematic as cataloging the multiple contents in the combo was tricky. 

Without product catalog management support in Odoo, they couldn't sell these products conveniently.

Accounting and taxation issues for multiple countries

Muuselabs faced problems while filing a VAT and filing taxes for various countries where they were conducting business. Additionally, since their business was registered in Belgium, Netherlands, Germany, and France, the tax collection rules differed based on the sending location and the destination country.
Muuselabs wanted to manage the taxes in a separate account and handle journal entries against the applicable fiscal rules. They also wished to maintain a separate chart of accounts, tax and journals for the four business locations.
If they sold products outside these 4 countries but within Europe, they wanted to maintain a separate chart of accounts, tax and journal. In addition, if they sold products outside Europe, they aimed to maintain the journal entries in the relevant chart of accounts after applying the tax rules.
In short, they wanted a seamless taxation system to file taxes based on the sending location and the destination country. Additionally, they wanted to track the sales process of a particular channel and the corresponding chart of accounts. For instance, if they imported orders from Amazon, they needed the accounting data to be recorded in the Amazon sales account.
However, the lack of a sales tracking and location-based taxation system affected their finances dearly. Managing the taxes took a lot of time and resources, which was inconvenient.
No automated invoice reconciliation and payment processing system

Muuselabs was using Stripe to receive payments from Salesforce, and all orders were charged via this gateway. But they faced problems in processing these payments.

They also encountered a significant challenge in reconciling the multiple invoices with their bank statements. Given that they received almost 1000 orders daily, it was difficult for them to match all with a single bank statement entity.

Lack of appropriate tax data for Avalara

Muuselabs used a centralized taxation system called Avalara to handle their taxes across multiple business locations. Avalara required the financial data in a specific format to process the taxes. But such customized data or financial reports were not available, which led to inconveniences while using the platform.

Issues with managing and processing multiple vendor bills

All the employees and vendors sent bills to a particular email address of Muuselabs. These bills were sent as attachments to the company, from which vendor bills had to be prepared. But it was difficult to prepare these bills individually as it was a very time-consuming process. The lack of such a billing solution created confusion and issues while preparing vendor bills. This led to delays in making payments and calculating finances and led to significant losses.

The process of developing bills for Odoo was also not easy, so Muuselabs needed a convenient solution.

Solutions: Emipro tackled Muuselab's problems with ERP integration and automation

Emipro took a closer look at all the problems Muuselabs faced and started working on a centralized sales system, automated invoicing, and taxation system. In this process, various necessary Odoo configurations and functionalities came into play. These included:

Centralized sales system with multichannel integration

Emipro helped Muuselabs deal with its sales issues by offering a centralized sales solution. To do this, they first understood Emipro's product range, number of orders, and activity on multiple channels.

Next, Emipro provided the Amazon and Shopify configuration for Odoo. Subsequently, they provided the customization for Salesforce integration for Muuselabs to fetch orders from Salesforce, record sales, inventory, taxes, and invoicing.

This helped Muuselabs import orders automatically from both these platforms, with their Amazon orders getting handled in FBA mode and their Shopify orders in Amazon FBA mode.

So, it streamlined the business operations and allowed the company professionals to access order data from a single platform.

Odoo out-of-the-box catalog management support

Emipro assisted Muuselabs in catalog management so that they could sell combos seamlessly across multiple B2C channels. They could now organize these combos and avoid confusion. 
Additionally, to help them sell wholesale products, Emipro provided an Odoo out-of-the-box customized solution. It included training on how to record sales orders in Odoo which significantly improved their sales efficiency and operations.

Convenient taxation and sales tracking functionalities

Emipro configured a fiscal position in Odoo to meet the various location-based tax rules. They also set up a chart of accounts to record the taxes conveniently.
So, at the end of a financial year, Muuselabs was equipped with the functionalities to file taxes for various countries easily. They could check the amount in these accounts to file taxes against the VAT.
These taxation rules were different based on the B2B and B2C channels. Nevertheless, Emipro provided an out-of-the-box solution for handling the taxes seamlessly in Odoo. It helped Muuselabs to identify the taxes easily and file them.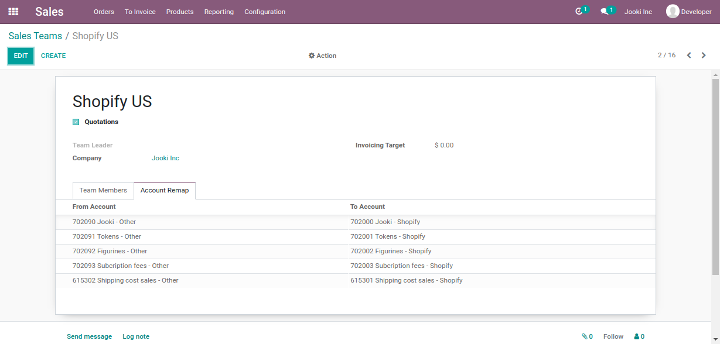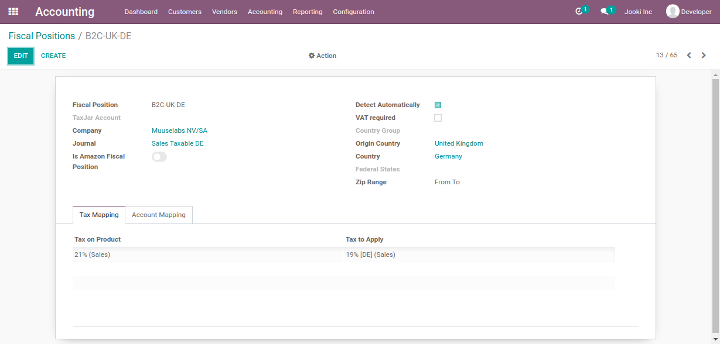 In addition, Emipro offered a sales tracking solution in Odoo so that Muuselabs can track sales according to the product. This meant that if they sold the product on Amazon, the associated financial information would go to the Amazon account.
If they sell the same product on Shopify or Salesforce, the corresponding sales data will be available in the respective accounts. Moreover, Odoo will offer the same facilities for wholesale selling.
As it's not convenient to cater to these requirements in Odoo out-of-the-box, Emipro customized the solution for Muuselabs.

Stripe integration and credit card import functionality for better invoice reconciliation

Emipro added a Stripe integration to Odoo for smoother payment processing. It helped Muuselabs to receive Stripe payments easily and match them with the corresponding invoices. Now, they could reconcile the invoices with the pay-outs and later also reconcile this amount with the bank statements.
Additionally, Emipro helped Muuselabs to import Stripe payment transactions and match the invoices with these transactions. Muuselabs could now receive details from Stripe on the amount transferred to the bank.
Later on, they could compare this amount with the bank statement and Stripe.
Similarly, Emipro also added a PayPal integration to Odoo. It enabled Muuselabs to process the payments and invoices and match them to the bank statements.
Moreover, they also helped Muuselabs to import credit card statements into Odoo and record/convert the transactions as bank statements. Emipro provided this functionality as special customization for the client, as Odoo can't directly import credit card statements.
There is a statement descriptor in credit cards that defines where the payment was made, like a software subscription. So, Muuselabs wanted to store transactions against specific vendors based on these statement descriptors.
That's why Emipro assisted them with an Odoo feature that matched the vendor and the statement descriptor automatically. This streamlined all the payment processes.

Customized reports and taxation data for Avalara

Emipro provided a customized functionality for generating a report that users could easily import to Avalara. So, Muuselabs could export the report from Odoo and import it directly into Avalara. The solution was extremely helpful in filing taxes for a specific location as per the fiscal year and financial quarter.

Optical Character Recognition configuration for seamless bill processing

Emipro tackled this problem by utilizing the OCR (Optical Character Recognition) in Odoo. So, whenever the company email address receives a vendor attachment for a bill, Odoo will automatically extract the details from the attachment.

Then, the feature helps Muuselabs prepare an organized vendor bill on Odoo with all the vital details. So, it reduces the time and overhead needed for creating individual bills from attachments or pdf files.

Impact: Streamlined workflows and process automation for Muuselabs

By partnering with Emipro, Muuselabs were able to restore order to their business processes and daily operations.
After Emipro developed the central integrated sales platform, Muuselabs could handle all their multi-channel sales processes. It enhanced their business efficiency, and they could focus more on product development rather than handling sales issues.
The platform enabled the sales managers to handle orders, delivery, and sales requests better. So, they could save a lot of time and cut down on losses significantly. The taxation management and invoice reconciliation also helped Muuselabs manage its finances better.
So, all in all, owing to Emipro's efforts, Muuselabs could get the most out of its systems, improve sales efficiency, and properly manage taxes. So, in the bigger picture of things, Emipro helped Muuselabs in business enhancement and expansion.

It has been a wonderful experience working with Emipro. Odoo is an excellent platform, but having assistance from a great team makes it complete. It is important to find people that you can work with easily. Some people from their team were always there to guide us. The system developed by them made our taxation structure and maintainance very easy and almost everyone in our team can manage it, it is so user-friendly setup. Overall we got the kind of partner we needed.