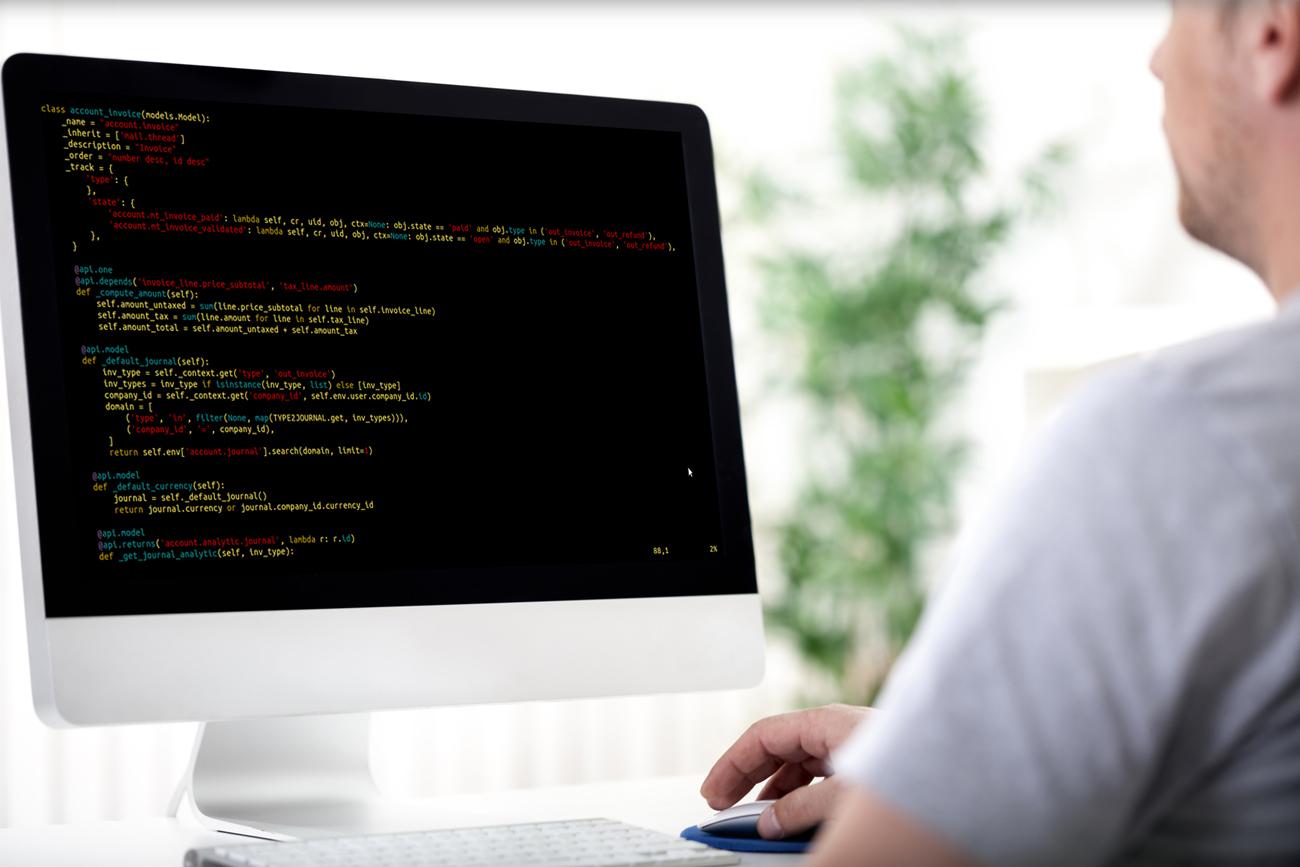 Hire Odoo developers
Odoo is a vast application used for accelerating large business processes smoothly. To develop and integrate such a vast application and maintaining it without any adverse effect to business is itself a big risk. Also, to control and maintain an enterprise system is not so simple task that can be done in overnight. So, to prevent from this risk, you need a highly skilled Odoo developer consisting of complete knowledge regarding Odoo.

Why Emipro

Get relief from your Odoo related worries by our Odoo experts

Wide Range of Technical Skills 100% Guranteed Solution


5 days/week , 8 hours/day


Quality Business Solutions


Regular Effective Communication

A dedicated Odoo developer can do for you :
---
Can Assist on Complex configurations
---
Functional Training as and when required
---
Define implementation plans
---
Customisation on any existing certified modules of Odoo
---
Custom module development for new features
---
Provide support to your staff on their routine problems
---
Ensure server performance optimisations
---
Odoo Theme Implementation
---
Upgrade to higher Odoo version
Hiring Plans
Choose the best plan according your need
Hire for a week
100% Payment in Advance
Portal access
Daily work summary report
Hire biweekly
100% Payment in Advance
Portal access
Weekly work summary report
Hire for a month
100% Payment in Advance
Portal access
Monthly work summary report
Hiring Process
Easy, quick & adaptive
Our Offerings
Feasibility Analysis till Complete Implementation.

40 Hrs. availability throughout in a week.

Track your project & performance of our team via our portal access.

Get daily, weekly and monthly work monitoring reports from our system on regular basis.

Task & issues separate management in which we will try to add less issues and more tasks so you can have effective hours on your project.

Guidance from our top project managers having more than 5 years of vast experience of working on odoo.

No overhead Cost.

No separate infrastructure required.

On demand communication via Skype & Email.

Transparent Communication.

100% Satisfaction.

A dedicated Odoo developer with at least more then 1 year of experience in Odoo.

Data protection guarantee.

Ensure highest & quality coding standards in back-end custom module development

Adherence to deadlines

Is it possible to hire a developer for limited hours in a week? Lets say, 20hrs/week.
Sorry, our plan starts from 40hrs/week minimum. So in case of less than 40hrs, you can check our support contract having more validity that will be effective for you.
By which payment method Emipro would like to get paid?

We accept payments through Bank Wire Transfers and PayPal. For more details of our bank account , please visit following link.

How much experienced my dedicated developer would be?

Oh yes, should I need to pay for the holidays,vacation or sick leave too?

Developers are entitled to be allotted company & national holidays. For more details, please Contact Us for holiday policy.

If I am having any problem about expertization or quality in work with my assigned developer then?

Although it is not likely to be happen, but if such case arises, you can contact our service manager. He will try to sort out your problem with an effective solution. In case of major problem,Top Management can also intervene. It is also possible to change your developer if required.
Is there any possibility that Emipro can set up an exclusive development team too for us at Emipro ?

Generally dedicated development contracts are for approximately 3 months or so, but if you expect steady work-flow for a longer duration using consistent programming languages and operating systems, then you can opt for an exclusive development team working for you at Emipro.
Can you give me an idea about how many hours per week would your Odoo developer work for me?

Emipro developers will work 8 hours daily from 10am to 7pm excluding weekends, completing 40 hours a week. However, our developers can work round the clock till the problem is sorted out in case of some emergency or deadlines.
Are Emipro services resalable?

You are having freedom on the services provided by our dedicated developer. It is your sole property and you can resell them.
How do I interact with my dedicated developer ?

Our dedicated developers are available throughout working hours for communication and follow up, yet we Most probably this doesn't happen as we share a strong bonding. But in such exceptional case we provide you with a replacement as early as possible, ensuring that your work doesn't suffer.
What will happen to my project if your developer falls sick or certainly quits your organization?

Most probably this doesn't happen as we share a strong bonding. But in such exceptional case we provide you with a replacement as early as possible, ensuring that your work doesn't suffer.
Will your dedicated developers sign a non-disclosure agreement?

Yes, all security requirements of our clients are topmost priority for us. Once selected by the client, all the professionals are contractually bound to protect customer confidentiality. They sign a non-disclosure agreement, which will render huge fines if not complied with.

Will the developer whom I hire, work for project other than mine?

Certainly not! We provide you a full guarantee that your hired developer will be fully dedicated to your project.

Will I owe my intellectual property which is developed by the professional?

A dedicated developer is contractually bound to forgo intellectual property rights and assign or transfer the ownership of all intellectual property to the client. We assure you that only you can benefit from your investments.

Will a dedicated developer available at the time of urgent works?

Yes, in case of urgency, we are available . In such circumstances you can even add more resources if required.

Will a dedicated developer available at the time of urgent works?

Though we are committed to protect your confidentiality, we are open to it.

If in a case of lack of resources or expertise, are you outsourcing my work to third party company ?

Certainly not! We ourselves have sufficient resources to accomplish your work.

Will Emipro sign an NDA?

Certainly not! We ourselves have sufficient resources to accomplish your work.

How long will it take for Emipro to start my project work?

As soon as you give us the details of your project requirements, your budget constraints and the period of hiring, we will start working on your project.

Will you provide security to my source code and commercial secrets?

We provide a secure development environment with firewall, password and encryption protection to our developers. Unauthorized access to any sensitive data and commercial secrets is virtually impossible.

What is the difference between Emipro developer and the rests ?


Can we make any comparison between better and best? Our emipro developers will provide you the best possible services to you. Now you need to decide whether you want to compromise with your work or you want the best one! Yet we have already mentioned some of the features of our dedicated developers above in the page.

Are you looking for dedicated Odoo developer ?
Contact Us